Saving for a home deposit is no mean feat. But there's a way to make it more achievable, with a little help from those closest to you.
What is a Family Security Guarantee?
If you're finding it tricky to reach a deposit of 20% or higher on your home loan, that's where a Family Security Guarantee comes in.
It allows a family member to act as guarantor to secure your deposit, so you have a bit more borrowing power. This can reduce your Loan to Value Ratio (LVR) to under 80%, which means you can avoid paying Lender's Mortgage Insurance (LMI) on top of your deposit.
That family member can choose cash (like tucked-away savings or term deposit funds) or equity from their home to use as security, and they won't need to give any funds directly to the borrower.
Here's an example of how the guarantee works
If you wanted to borrow $500,000 (to cover the loan amount, Stamp Duty, and other costs, but not LMI) for a property valued at $550,000.

Loan Amount ÷ Property Value = LVR
$500,000 ÷ $550,000 x 100 = 90%

With an LVR of 90%, LMI is applicable, which is an added cost. However, if you were to add a Family Security Guarantee of $75,000 as additional security, the LVR on your loan reduces.

Loan Amount ÷ (Property value + Family Security Guarantee amount) = LVR
$500,000 ÷ ($550,000 + $75,000) x 100 = 80%

With a new LVR of 80%, LMI would no longer be required, which could be a significant saving.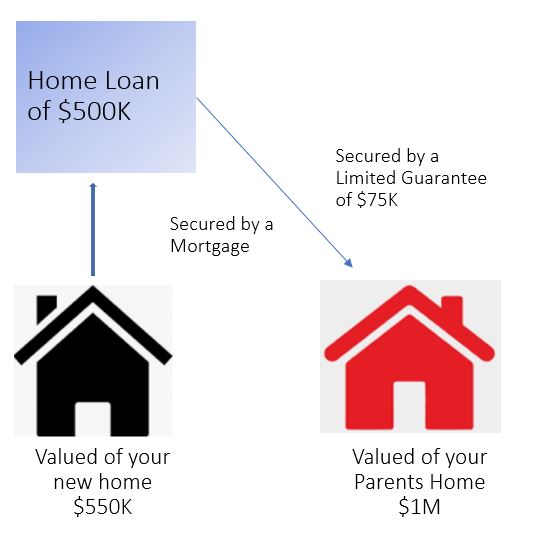 For the guarantor
A new offer sets this guarantee apart – Limited banks only
If you choose to use cash instead of your home's equity, the guarantee amount will be put in a special Term Deposit account to earn interest. Eligibility and terms and conditions needs to be met.
Know the risks
If you're thinking about becoming a Guarantor in the Family Security Guarantee, there are a few things you should be aware of first:
It's a big decision to make, so ensure you're confident with the borrower's financial situation (and yours) to handle it.
Keep in mind, a single guarantee is able to represent no more than 50% of the guarantor's security.
You'll be liable for the amount you guarantee. That means you're promising to pay the bank that amount if the borrower can't repay their loan and defaults. If you choose to use a Term Deposit as security, the whole deposit amount could be used, depending on the portion the borrower cannot repay. If you choose to use your home's equity as security and don't have cash to pay bank upfront if asked, your house may be sold to cover it.
While acting as guarantor, your ability to borrow may be reduced.
Make sure you read and understand the full Terms and Conditions of the guarantee, and ensure you seek the mandatory independent legal advice before making a decision and signing any documents.
For the borrower
With a Family Security Guarantee, you can enjoy:
More borrowing power – Maximise the amount you can borrow; up to 100% of the purchase price, plus costs like Stamp Duty and Legal Fees.
More to save – A guarantee can help you reduce or avoid Lender's Mortgage Insurance, saving you money when you need it most.
More choice – You may be able to enter the market sooner, with extra flexibility to choose the property that's right for you.
Eligibility – Depending on the bank, they may have different policies and eligibility requirements. It is essential that you speak with your broker about various banks that they may have access to.

Before you get started, ask yourself:
Are you eligible for the Family Security Guarantee?
To be eligible, you must be looking to purchase or refinance a new home for yourself, or an investment property.
Have you thought about home loans yet?
The Family Security Guarantee is available on a range of loans by banks, for purchase or refinance of owner occupier or investment properties. Note that, for investment properties, the borrower must not have ownership of any other properties at the time of application. For owner occupied properties, a maximum of one other property may be owned which does not have sufficient equity to provide a security. Please speak to your broker for more information about your eligibility. Line of Credit and Bridging Loan products are not eligible under the Family Security Guarantee, and it cannot be used for the purposes of debt consolidation, owner builder construction, equity release / cash out, or adding of a security guarantee to an existing loan.
Do you have a family member who might be interested in helping you purchase your property?
They may be a parent, legal guardian, sibling, or your child aged over 18. It's a big decision to make, so check they understand the benefits and risks, and ensure they're confident about their financial situation (and yours) to handle it. Keep in mind, a single guarantee is able to represent no more than 50% of the guarantor's security.
Are you on top of any expenses?
Make sure you're aware of any extra buying costs, like Stamp Duty and legal fees. It's critical that you have the budget to afford the loan, as the guarantee does not reduce or assist with home loan repayments.
One-stop finance
Finance Circle Group do much more than arrange finance for home loans. We can help to identify and secure commercial and asset funding to enable your growth, while at the same time preserving your operating cash flow.
We can be a one-stop-shop for your financing needs. Contact us to find out more about how we can help you with commercial and asset finance.
FEEL FREE TO CONTACT US FOR AN OBLIGATION FREE DISCUSSION.
Finance Circle Group
www.FinanceCircleGroup.com.au
The information on this website is general information only and is not intended to be a recommendation. We strongly recommend you seek advice from your financial adviser as to whether this information is appropriate to your needs, financial situation and investment objectives.